In this episode of Microsoft Weekly, we look at new Windows 11 preview builds and their features, app updates, lots of gaming news, an upcoming Surface hardware event in New York, and blasts from Microsoft's past.
Table of contents:
Windows 11 (and 10), Surface, and other Microsoft news
Here we talk about everything happening around Microsoft's latest operating system in the Stable channel and preview builds: new features, removed features, controversies, bugs, interesting findings, and more. And of course, you may find a word or two about older but still supported versions.
Last week, Microsoft released the August 2023 Patch Tuesday updates with bug fixes and security patches. Although we have not heard about major earth-shattering bugs, Microsoft confirmed one annoyance affecting Windows 10 users. According to the official documentation, recent Windows 10 updates could cause issues with ClickOnce apps. Microsoft promises to release a fix soon. Meanwhile, affected customers can mitigate the problem by re-installing the impacted ClickOnce programs.
On the more positive side, Windows 10 users will soon get another application straight from Windows 11. Sharp-eyed enthusiasts noticed that the latest Microsoft Photos app update introduced support for Windows 10, meaning those sticking to the previous-generation Windows may soon get access to the redesigned app and its features, such as improved OneDrive integration, better import, fancier user interface and more. Check out our coverage to find more details and learn how to install the app right now.
Moving to Windows 11, we have the latest post from Microsoft detailing the benefits of using Windows 11 on Surface devices. According to the company, Windows 11 is better at adapting to different modes and "postures," it provides better energy efficiency with dynamic refresh rate support, better security, and more.
Speaking of Surface, Microsoft has finally announced the date of its upcoming Surface event. On September 21, 2023, the company will hold a special event in New York, where we expect a bunch of new Surface computers, such as Surface Go 4, Surface Laptop Go 3, and other. Also, with the company no longer making Microsoft-branded PC accessories, one may expect some new accessories under the Surface brand.
On the less positive side, a security research team at AquaSec has published a report highlighting a series of major security vulnerabilities found in Microsoft's PowerShell Gallery, a repository with scripts, modules, and DSC resources. More importantly, AquaSec claims Microsoft has been aware of the issues for a very long time.
Despite reporting the flaws to the Microsoft Security Response Center on two separate occasions, with confirmation of the reported behavior and claims of ongoing fixes, as of August 2023, the issues remain reproducible, indicating that no tangible changes have been implemented.
Also, Microsoft announced it would stop producing Azure Kinect Developer Kits in October 2023. For those unfamiliar, the Azure Kinect Developer Kit is a Kinect-based device made for businesses and enterprise customers.
Windows Insider Program
Microsoft released a bunch of preview updates to test in the Windows Insider program this week. Here are the details:
Server vNext: 25931 Azure Arc-enabled servers support and more.
Canary Channel: 25931 with more features coming from the Dev Channel, fixes, the ability to uninstall more stock applications, and in-place upgrade support on ReFS.
Dev Channel: 23526 with Start menu, UI, Narrator, and other improvements. The update also changes the built-in time bomb, allowing you to use preview release until September 15, 2024.
Beta Channel: 22631/21.2199 with native support for more file compressing formats (RAR, TAR, 7Z, TGZ, and more), UI improvements, never combine mode for the taskbar, and more.
The latest Windows 11 preview builds also contain a new feature for Microsoft Paint. After releasing dark mode and improved zoom controls for all users, developers introduced centered canvas support for improved navigation.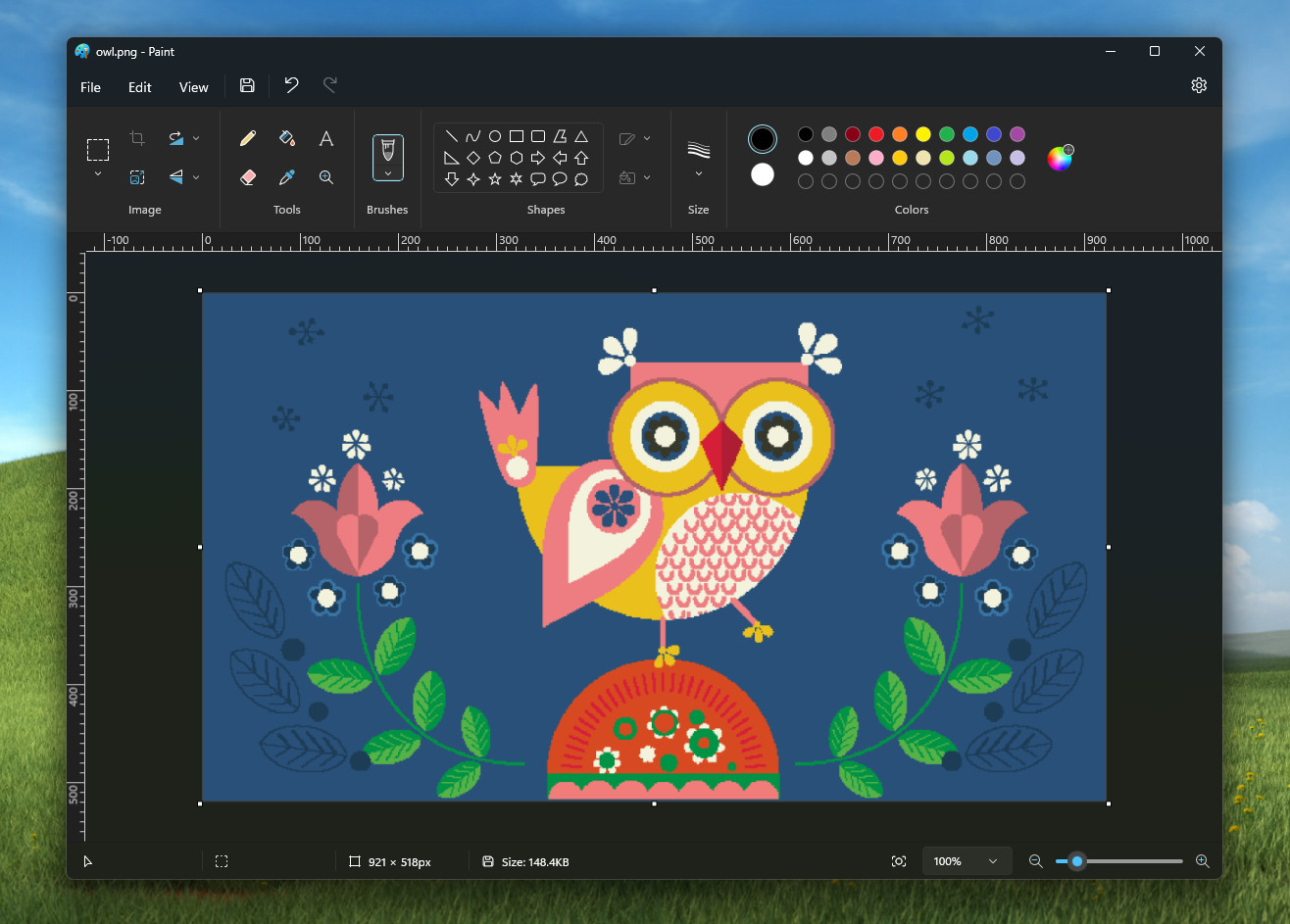 Also, there is an update for Windows Subsystem for Android. The August 2023 update delivers stability improvements, a more recent Chromium WebView version, and Android 13 security updates.
Updates are available
This section covers software, firmware, and other notable updates (released and coming soon) delivering new features, security fixes, improvements, patches, and more from Microsoft and third parties.
A number of Surface devices received new firmware this week. Usually, these updates fix security issues, resolve various fixes, introduce support with new accessories, improve performance, and more.
You can download the latest firmware for your Surface Go 2 or Surface Pro X from Windows Update.
Earlier this year, Microsoft announced the new default font coming soon to its Office apps. Dubbed Aptos, the font will replace the beloved Calibri introduced in 2007 alongside Microsoft Office 2007. Aptos is already available for testing in the Microsoft 365 Insider program, and it will soon arrive for all customers in the stable channel. According to a recent Microsoft 365 Roadmap update, the company plans to ship the new font somewhere next month.
Microsoft PowerToys, one of our favorite Windows 10 and 11 utilities, will soon get a redesigned settings home page. Developers plan to implement a new section with quick toggles and tips about shortcuts and other utility-specific options.
Another new feature for Windows 11 and 10 will come in handy for those playing games on their PCs and using Microsoft Teams. The Xbox Game Bar app now received "Play Together," a Discord-like feature that lets you communicate with friends while playing PC games.
Here are other notable app updates released this week:
And here are new drivers you may want to check out to get the latest improvements, fixes, and performance uplifts:
On the gaming side
Check this section to learn about upcoming game releases, Xbox rumors, new hardware, software updates, and more.
Starfield, one of the most anticipated games this year, is getting closer with the release scheduled for September 6, 2023. However, some gamers are already raising concerns about potential delays since the game has yet to "go gold" (a special term to indicate that a game is ready for its initial release). To calm the unrest, Bethesda's head of publishing, Pete Hines, tweeted that gamers should "take a deep breath" and his team "know what they are doing."
And just a few days later, Bethesda confirmed that Starfield had gone gold. If you still have a hard time waiting for the release, checking out Starfield's official timeline may help you a bit.
Starfield will be available on Xbox Series X|S and PC on September 6, 2023. You can preorder (and preload) it in the Microsoft Store and Steam or play it on day one with Xbox or PC Game Pass. Tip: You can save $10 on the digital version using a special Newegg promo code.
Although everything looks set for Starfield, the same cannot be said about Robocop: Rogue City. The upcoming game from Teyon was delayed from September 2023 to November 9, 2023. In July 2023, developers held a closed beta test, and its results most likely contributed to the two-month delay. Robocop: Rogue City will be playable on Xbox Series X|S, PC, and PlayStation 5.
Epic Games and Remedy Entertainment also decided to postpone their upcoming title Alan Wake 2. Luckily, only by 10 days: from October 17 to October 27. The reason for this delay is that developers do not want Alan Wake 2 to be jammed up with another games. Finding a good release window for a game is not easy this way, hence such weird delays and changes.
Another game getting a release date change is Assassin's Creed Mirage from Ubisoft. However, unlike Robocop: Rogue City and Alan Wake 2, developers moved the schedule in another direction. The game went gold, and fans of the franchise will get access one week earlier. Now the release is scheduled for October 5, 2023.
Ubisoft plans to release a new update for Rainbow Six Siege. This week, the studio revealed the Year 8 Season 3 update called Operation Heavy Mettle with a floor-eating robot (what?), a quick match overhaul, a new arcade mode, and a brand-new operator from South Korea.
The Texas Chain Saw Massacre is another game coming to PC and consoles this month. If you are into such games, check out the recommended specs for running the game in 1080 30/60fps and 4K 30/60fps. Also, there is detailed information about performance targets on the current and past-generation consoles from Microsoft and Sony. The Texas Chain Saw Massacre will arrive on PC, Xbox (including Game Pass), and PlayStation on August 18.
Speaking of Game Pass, check out the latest wave of new games for those subscribed to Xbox Game Pass, PC Game Pass, or Xbox Game Pass ultimate. The new additions include Firewatch, Gris, and more.
Forza Horizon fans received fresh new cars and fixes in the latest update for Forza Horizon 5. The Italian Automotive update is now available with 16 vehicles (free and premium) from Alfa Romeo, Fiat, Lancia, Ferrari, Lamborghini, and Italdesign.
Another important gaming announcement from Microsoft this week was the new Xbox Enforcement Strike System. Violating the code of conduct may result in receiving from one to three strikes and a suspension from Xbox Live from one day up to one year.
Also, Microsoft revealed its plans to put the Xbox 360 store to its final rest. On July 29, 2024, the company will pull the plug on the marketplace. Customers will no longer be able to purchase titles for the console released almost twenty years ago, potentially resulting in more than 220 digital-only games going six feet under.
However, the change does not affect the games you own—you can continue playing them on your Xbox 360 (digital or physical copy) even after the specified date. Moreover, backward-compatible titles will remain accessible on more modern consoles, namely the Xbox One and Series family.
Finally, Microsoft Flight Simulator marked its third anniversary this week. To celebrate the milestone, Microsoft published a bunch of stats, detailing the most popular aircrafts and airports, total miles flown, number of flights, etc.
Deals and freebies
Looking for something new to play? Check out this week's Deals with Gold offering notable discounts on Borderlands, Crysis, Grand Theft Auto, Timbleweed Park, and more. On the PC side, the Epic Games Store is giving away Black Book and Dodo Peak.
Another game you can snag with a massive discount is Bethesda's Fallout 4 Game of the Year Edition, which is now available DRM-free on GOG Galaxy. To celebrate the launch, Bethesda lowered the price from $39.99 to only $9.99.
Finally, check out our weekly series featuring the latest PC game deals with triple bundles, double freebies, free play days, and more.
A blast from Microsoft's past
Our colleague John Callaham provides weekly throwbacks into Microsoft's past, with multiple look-back articles providing interesting trivia about the company's past products, partnerships, mishaps, and successes.
This week's look-back article recalls the Microsoft Songsmith app from 2009. Songsmith was a Microsoft Research project that later became a commercial product ($29.99 or almost $44 in today's money). The idea was to help you generate somewhat bearable music for your lyrics, "more than good enough to make a cute birthday card for Mom or a Valentine's Day love song." Grab a mic, sing any lyric, select the style you want, and watch the app do its magic.
The software giant stopped selling Songsmith long ago, but the app is still around. You can try its limited free trial even on a modern PC running Windows 11. With all the latest hype around artificial intelligence, it is beyond interesting to see Microsoft's past experiments with generative software.
On August 16, 1995, Microsoft launched the first version of Internet Explorer. It was part of the Microsoft Plus! package for Windows 95 and included basic HTML support with bare-bones, no-frills capabilities. You can learn more about this 28-year-old piece of Microsoft history in John's another look-back article.
---
Random fact about Microsoft
And here is a randomly selected piece of trivia about the company, Windows, and other Microsoft-made things.
Did you know that the Windows 95 CD-ROM version included a bunch of extra stuff for fun, including a game called Hover! Unlike 3D Pinball Space Kadet, Minesweeper, and Solitaire, many users do not know about this long-forgotten capture-the-flag-like game released 28 years ago.
Like other stock games in Windows, Microsoft made Hover! to showcase the "advanced multimedia capabilities" of personal computers of that time. However, not everyone at Microsoft liked Hover!, and some even secretly called it Hoover. Apparently, because the game sucked, just like those vacuum cleaners from Hoover.
In 2013, when Windows 8.1 was the latest and greatest, Microsoft released a remake with "brand-new 3D graphics" and touch gameplay. Then-new Hover was also available as a web-based game for showcasing WebGL support in Internet Explorer (rest in peace, old friend). Sadly, like the Windows Store version, web-based Hover is no longer available.

You can find other issues of the Microsoft Weekly series using this link. Also, you can support Neowin by subscribing to our Newsletter to get regular news recaps delivered directly to your email.